"...help Liao. Then go to Wutai."
This article needs more information! Help us expand on relevant details by contributing.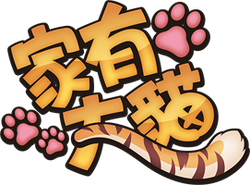 Nekojishi (家有大貓) is a furry dating simulator visual novel revolving around a young man who suddenly finds that he can see spirits.
Liao, a college student, must choose between three cat spirits and decide who to help. This decision is made harder by the fact that, whoever he decides to help, he must stay with for life.
A romance torn between school life and mysterious spirits!
Born into a religious family, Lin Tian-Liao left his hometown and moved to Taipei to study and follow his dreams, trying to escape the pressures of returning to his family's temple in the process. His ordinary college life seemed to be going well until suddenly one day his third eye was opened. Liao, now able to see the various spirits and gods in the world, has to deal with his new found powers, his school life, and three particular cats who all want to have a say in his life and his future.
Nekojishi is a visual novel about the pressures and consequences of deciding your future in a world of gods and spirits, the position that religion and folklore take in modern society, and three feline beast-men that Liao can't seem to get out of his room or out of his head!
Note: Nekojishi features same-sex romances and cute cat dudes. [1]
Standard Edition
Edit
The Standard Edition of Nekojishi is available on Steam as free-to-play and free to download on the official website. In place of NSFW CG from the Limited Edition, Standard Edition has expanded dialog and alterations to the plot, mainly towards the true endings. Standard Edition was released on Steam on November 12, 2017.
Standard Edition downloaded on Steam is compatible with the Nekojishi Original Soundtrack DLC.[2]
Current version of the Standard Edition is v1.06.
Limited Edition
Edit
The Limited Edition of Nekojishi is an age-restricted (18+) version of the base game with NSFW CG and some alterations to the plot, mainly towards the true endings. The Limited Edition was available for free download on the official website and on Nekojishi's itch.io page, as well as purchasable for TWD$299 as an option to support the developers, but has since been removed.
On each startup of the Limited Edition, the user will be prompted by an age-restriction authorization agreement.
The current version of the Limited Edition is v1.06.
Development Team
Edit
Team Nekojishi
Producer
Director, Scriptwriter - Pache
Administrations
Administrations - 阿空
Programmer
Programming - 月月冬瓜
Music
Music, Theme Song Lyrics & Mix - クエン酸P / 晴空和音
Theme Song Music - Triodust / 空氣載體
Public Relations
Cinematic Vocalist - パロト★鸚鵡
Art
Character Design - 山藥人
Game Illustration - 竹本
CG, Merchandise - 五色
Game Interface, Logo Design - Mixvariety
Video Design & Edit - Nviek5
Background Line Art - 三春紹華
Background Coloring - Haung
Web Design - 波魯
Web Design - Tardor
4-koma, Wallpaper Design - 阿品
Merchandise Design - 綠茶葉
Crowdfunding Promotional Image - Datar
Consultants
Game Consultant for Script, Game FX - 藍颯斯
Art Consultant - 騰騰
Localization
English Script Localizations, Community Moderator - Compymono
References
Edit
External Links
Edit
Community content is available under
CC-BY-SA
unless otherwise noted.